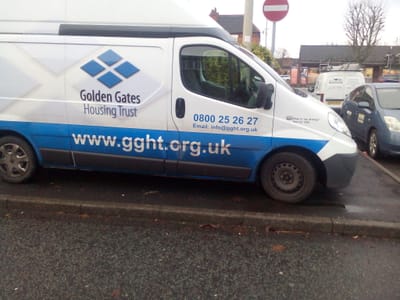 Charity no. 1137675
Company no. 5021951
 2017
Income: £39.5M
Spending: £28.1M
​https://www.gov.uk/government​​​
Open Government Licence v2.0
Contact details
Website: http://www.gght.org.uk
Email: [email protected]
Tel: 01925 452452
Public address
Golden Gates Housing Trust, Bank Park House, Kendrick Street, Warrington, WA1 1UZ
Gght describing their role as a landlord 
We believe our role goes way beyond traditional bricks and mortar and we are committed to investing in our communities and providing the opportunities and support to help our tenants achieve their ambitions and improve their lives."
GGHT Repairs and Maintenance Policy
https://www.gght.org.uk/about-us/Pages/Our-Policies.aspx
1. PURPOSE
1.1 GGHT believes that the quality of its repairs and maintenance service is of great
importance, not only to provide value for money for our customers but also to
protect the value of its housing stock.
Our aim is to:
- Comply with the law and all relevant codes of practice relating to the repair and
maintenance of buildings, land, fixtures, fittings and any equipment or
appliances supplied for use by our customers.
- Look to get the best value for money by completing repairs right first time,
driving value from the supply chain and carrying out renewals of components
under planned programmes and on a just in time basis.
- Deliver a quality repairs and maintenance service with high levels of customer
care and satisfaction.
- Consider the needs of our customers whilst carrying out repairs and
maintenance